Inside Bill Gates House – Where does Bill Gates Live?
---
Bill Gates House: Where does Bill Gates live? He lives in a large mansion in Medina, Washington.
Earth-sheltered, the James Cutler-designed mansion overlooks Lake Washington and costs more than 97 million. The mansion spans more than 66000 square feet, and sits on a 2.1 hectare lot. The lot was purchased in 1988, and construction took more than eight years to complete.
Bill Gates Mansion Features
You might wonder about some of the features of this mansion: according to property records, they include eight bathrooms, four levels, an underground garage, an estuary, a theater, a gym, a library, a boat house, a guest house, a 5 x 18 metre swimming pool, a fossil-motif floor, an underground music system.
House of Bill Gates – High Technology
Not surprisingly, Bill Gates' home is also perhaps one of the most high technology homes ever built: rotating paintings, pressure sensitive floors – what less can you expect from the Microsoft founder?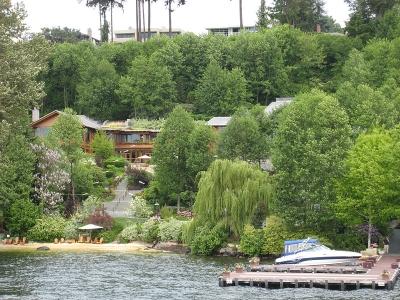 Courtesy: Jeffwilcox
Bill Gates Address
Bill Gates Home Address / Bill Gates Mailing Address
Wondering what the Bill Gates mailing address is?
Here you go: 1835 73rd Ave NE, Medina, WA 98039.
---
Return from Gates House to List of Billionaires
Return from Bill Gates House to Financial Freedom and Passive Income Success Guide