Passive Income Opportunities
---
(To skip the part on passive income opportunities and go directly to how you can receive free, unlimited one-on-one Site Build It coaching, click here)
How I found my way in the online maze of supposed 'passive income opportunities'.
More than 90% of those who try to "get rich quick" online give up after three months. I have had my share of failure, especially when I first tried to make money online. I wasted a lot of time and money experimenting with different types of software and reading the fluff written by supposed "gurus" who knew all about passive income opportunities.
But I did not give up. I chose to fall forward, learning from each of my mistakes and always bouncing back with even more enthusiasm. Eventually, my successes more than trumped my failures – but it took several years of hard work and painful experimentation before I finally got it.
Back to the Basics: 2 Essential Ingredients
To succeed online, you need two essential ingredients: a website, and traffic.
A website – This will be the platform for you to post advertisements, sell your E-Goods, and create different sources of passive income.
Traffic – Without visitors, there will be no one to click on your ads; there will be no way to leverage on the passive income opportunities available.
Let's start with the website…

There are many ways to build a website. There are two approaches that most webmasters use: do-it-yourself, and outsourcing.
To create a simple website, you need to know HTML and CSS. Head to a site such as W3Schools for HTML and CSS lessons. If I were to design my own website, I will use Photoshop to design the graphics, and Dreamweaver to edit the HTML and to weave the graphics into my content. If you are comfortable with looking at HTML and CSS code, I would highly recommend Arachnophilia – this 100% free software is fast, highly functional and great for editing code. I use it almost exclusively whenever I edit code.
You can also outsource the coding and design of your website to freelancers on a site such as eLance. However, design costs can be prohibitive, and you probably do not want to dig a hole in your pocket without knowing if you might be able to profit from your site.
The only problem with either approach…
Most of these websites do not generate traffic! If you already have a website, go to Alexa.com to check your Alexa ranking. Most sites with more 100 unique visitors per day have Alexa rankings less than 2,000,000. This is 2,000,000 out of 157 million – that's how many websites there are in total. As you can see, close to 98% of all websites hardly receive any traffic and therefore have very little monetization potential. These websites cannot make any money from passive income opportunities, because they have no traffic to monetize.
Compare that to BillionDollarIncome.com's current traffic:
That number is where this site ranks out of 156 million active websites tracked by Alexa. That puts Billion Dollar Income in the top 0.5% of websites on the net.
Where I get my traffic
There are two main sources of traffic: search engine traffic and direct referral traffic. Search engine traffic is free and organic - if your pages are consistently ranked highly on Google, you can count on a steadily increasing source of visitors from the search engines. Direct referral traffic comes from other websites, social networking sites, links you post on forums - these sources of traffic require much more work on your part to manually create links and attract traffic.
There is also third source of traffic - paid traffic. Some webmasters bid aggressively on advertising programs such as Adwords to be listed as one of the sponsored links on search engine searches. This can build traffic for your site quickly, but it is very expensive. Unless you develop a means of monetizing your site that strictly performs better than the cost of your paid traffic, you can easily be in the hole. And once you stop paying, traffic to your site drops like a stone. There are few passive income opportunities with paid traffic.
BillionDollarIncome.com gets more than 85% of its traffic from free search engine traffic. I pay nothing for this traffic, and it is also the highest quality traffic - why? Suppose people are searching for 'how to improve fico score' on Google. That means they are already interested in how to improve their fico score, and will be ready for my advice and the products I recommend when they arrive at my page on how to improve fico scores. Compare that to someone who simply clicks on an advertisement to get to my site - that user may not be looking for anything in particular, and is much less likely to buy something from me.
How I Attract Free Search Engine Traffic
Search engines such as Google use a variety of indicators to determine which sites rank the most highly. Here are the most important strategies:
Target High Demand, Low Supply Keywords
To maximize the chances of site visitors, target the keywords that are the most highly searched-for on Google, and that have the least other websites competing for them. One way to gauge keyword demand fairly reliably is with the Google Adwords Keyword Research tool. This tool tells you search demand based on Google search information.
The only problem with the Google Adwords tool is that it does not have reliable keyword supply data. It is hard to create passive income opportunities with your website if you do not have an accurate picture of how saturated your target keyword/market is.
The most reliable tool that offers both keyword demand and keyword supply information is Site Build It: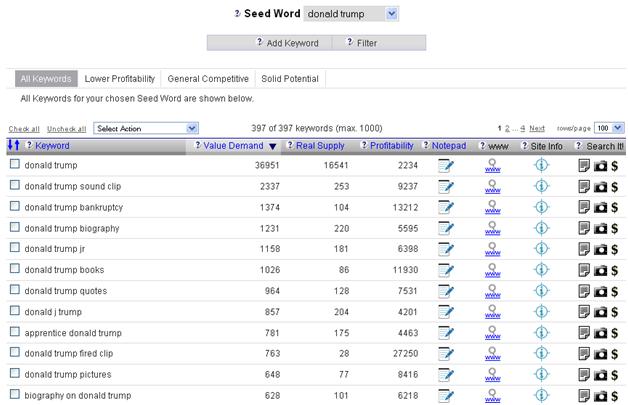 Suppose I were interested in creating a page related to Donald Trump. As you can see from the screenshot above, Site Build It's Brainstorm It tool tells me exactly which keywords are the most profitable (highest demand, lowest supply; profitability = value demand / real supply) - in this case, "donald trump bankruptcy" and "donald trump fired clip". These are the two keywords that are the most likely to help me be found easily on the search engines, as they have the most people searching for them, and the least other websites competing for them.
Target Long-Tail Keywords
Most websites out there target the most popular short keywords such as 'credit cards' or 'fico score'. But these keywords are nearly impossible to rank highly for with a new website. A simple Google search for 'credit cards' returns 133,000,000 results!
Site Build It's vertical keyword research tool helps you find the long-tail keywords that have the most potential. From the same screenshot above, you see that "donald trump" on its own appears reasonably profitable, but longer keywords (long-tail keywords) such as 'donald trump books', 'donald trump jr' have many fewer websites competing for the same keyword. The smart webmaster will therefore instead target these long-tail keywords.
Link Exchange
Another very powerful way to build traffic and create passive income opportuniteis is to generate a steady supply of backlinks. Google ranks sites according to PageRank, an indicator that measures the quality and quantity of links to your site. A link to your site is seen as a 'vote' from that site - the more votes you have, the more of an authority you will be seen as. A link from a high authority site such as Wikipedia (Pagerank 8) is also seen as much more important than a link from a low authority site such as the regular sites with Pagerank 0.
An excellent way to increase your link authority is to exchange links with other sites. Value Exchange offers a 100% free platform that matches your site with other sites with a similar theme. The more relevant the link (between similar pages), the more Google and the other search engines will see the link as high quality rather than spam.
Search Engine Optimization
Search engines also take into account factors such as how many times your target keyword is repeated, where your target keyword is placed, how often your target keyword is emphasized, whether your keyword is placed in a link back. These tip factors seem unimportant on their own, but collectively can make a huge difference on whether your page gets ranked highly.
To do this on your own, you would have to scan each page carefully and check that you have repeated your keyword sufficiently depending on the total number of words on each page - but not too many times, because then the search engine will flag your page as spam.
This quickly becomes a pain when you write long pages and have to check through the entire list of tip factors each time you write a page.
The solution I use daily is Site Build It's Analyze It!, which checks through the most important page elements for you to make sure all the tip factors are in your favor:
As you can see from this dummy page, each time you upload a page or build a page with SBI's site builder, Analyze It! checks through all the on-page search engine criteria and warns you when you should make changes in order to rank more highly on the search engines.
Well-Timed Search Engine Submission
Once you have created your keyword-targeted content page, you need to submit them to the search engines so your pages can be spidered. But there is a certain art to search engine submission - you need to ping the major search engines when you first build a site, re-ping them if you update the page, and manually ping them again if they do not list your page after you first submitted it.
Doing all these on your own is possible, but submitting, re-submitting and tracking search engine progress manually with multiple pages is very time-consuming. Site Build It's Search HQ automates the entire process for me, and updates me daily on my progress with each of the major each engines for each page:
You can probably see why I am so enthusiastic about Site Build It by now. There is nothing quite close to the complete website-building and marketing package Site Build It offers - see this for yourself when you compare SBI to its closest alternatives feature-by-feature. Site Build It owners have had such strong and consistent success that Site Build It's record speaks for itself.
The hidden bonus to using Site Build It is its amazing support community. Besides the standard email and phone support, SBI has the most active members-only forum I have seen. Experienced owners gladly share their advice and tips of wisdom with newer members, while new members who need help usually have their queries answered within hours. You can also look forward to a weekly SBI newsletter that updates you on the latest best practices. Painstakingly edited and compiled, the newsletter reflects the newest information gathered from over 200 feeds, e-zines, articles and blogs online. It identifies the most useful and relevant information for you and ensures that you are always kept ahead of the flow.
Get a Free Domain even if you later decide Site Build It is not for you
The best part is that there's no risk in trying Site Build It! for yourself, for it comes with a no-lose money-back guarantee. Test drive SBI and get a no-questions-asked full refund if you don't like it. You can also keep the domain you have registered through SBI for free - so you get a free domain no matter what!
You get a full refund if you request for it within the first 30 days. And even if you decide to quit after 30 days, you will get a pro-rated refund for the remaining portion of your subscription - and still get to keep the new domain. If you have any doubts about whether Site Build It will actually refund you, see why this guarantee has teeth.
Let me make you an offer you cannot refuse:
Free, Unlimited One-on-One Site Build It Coaching
I believe in helping you succeed. I want you to be financially free. As such, I will only promote products that I believe will actually work. In order to help you succeed with Site Build It, I will work with you personally for as long as you like. Yes, I promise to work with you personally until you consistently make at least $100 per month with your websites - or even longer if you like.
Once you hit that mark, you will have more than made back your $299 annual Site Build It subscription and have a steady monthly income to look forward to. Your snowball will quickly gather speed by then, and you will soon find yourself earning $500 per month, $1000 per month, and more.
If you have the motivation, it will not be long. I will be there to help you personally. You will have 24/7 email access to me, and can count on my prompt replies within 24 hours.
Once you have received your order confirmation email from Site Build It, email me using the form below with your first name, last name and email so I know you are interested in the free, unlimited one-on-one coaching.
Within 24 hours, you will receive my introductory email and we will begin our coaching relationship from there.
Look forward to working with you personally - cheers to your success!
If you have any questions at all, do not hesitate - use this form to contact me right away:
Return from Passive Income Opportunities to Billion Dollar Income Homepage